Water Damage Restoration
Water damage can be the result of issues like: burst pipe, leaking ceilings, sewage backup and floods. Despite what has caused the water damage, once it has been discovered time is of the essence. When water damage continues to sit, ti becomes worse and requires further restoration services. Whether you have water that has been on the property for less than an hour, or water that has been sitting for days, the water damage restoration experts at 911 Restoration of High Desert are ready to get you back to pre-damage condition.
Our water damage restoration experts are available 24/7, 365 days per year. After receiving your phone call, the team will arrive on site within 45 minutes to begin providing water damage restoration services. They will begin by assessing the magnitude of the property's damage and discover the source behind the water damage. After that, they will discuss with property owners the necessary steps needed to get on the path to total restoration. 911 Restoration of High Desert team uses state-of-the-art water removal equipment and has received extensive training on proper drying techniques. Due to the experience the IICRC highly trained technicians have, they are able to combat water damage of any size.
When you have a water damage emergency, our team is already nearby and ready to begin restoration services. We are dedicated to providing customers with quick response times in order to help limit the amount of damage on the property and to reduce cost of services. Each water damage restoration scenario is unique. The team at 911 Restoration understands this. Therefore, each situation will receive water damage restoration services best fit for its condition.
Get on the path to a fresh start by calling the water damage experts at 911 Restoration today!
The Steps We Provide for Total Water Damage Restoration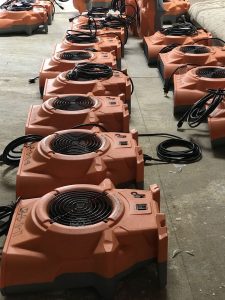 Once your residential or commercial property has been assessed and the culprit behind the water damage has been identified, our team will begin water extraction efforts. This step during the water damage restoration process is done to remove the majority of water in the property. The water damage restoration experts will use state-of-the-art technology and advanced extraction techniques in order to quickly remove the damage from your property.
Following water extraction, the IICRC highly trained technicians will begin removing water. This step is dependent on the depth of water damage the property is experiencing. The proper equipment will be used to remove excess water and reduce the time needed for drying. It will also help to prevent mold infestations from forming. The next step in the water damage restoration process will include inspection of the damaged area now that the water has been extracted and removed. For instance, if your carpet needs removing it will be determined during this step.
Water damage restoration is a job that should be left in the hands of the highly trained experts at 911 Restoration of High Desert. We offer a wide range of water damage restoration services and will provide the necessary steps in order to get your property back to pre-damage condition.
Mold Removal from Water Damage
When water damage continues to sit in a home or business, it can cause further damage to the property's structure. Even worse than that, it can breed mold infestations and lead to the need for mold removal. These infestations are often detected due to the potent smell they have. Unfortunately, they spread quickly throughout a property, so once the need for mold removal is suspected, call 911 Restoration of High Desert as soon as possible.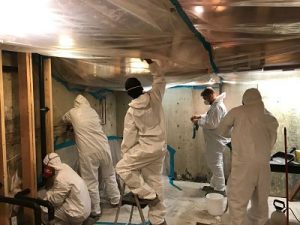 Mold produces allergens and irritants that can take a toll on the health of those who frequent the property. Your health and well being is the mold removal team's number one concern. In order to provide you with the best mold removal services in the industry, we offer benefits such as:
Free visual mold inspection for property owners only
Professional mold inspection
Residential and commercial mold removal services
Structural drying and dehumidifying of damaged areas
Professional mold sampling
Third-party laboratory mold testing
Highly trained technicians who will provide you with peace of mind
The water damage experts at 911 Restoration are ready to provide mold removal services to your commercial or residential property. Due to our experience, training and knowledge we are able to get the property restored quickly and efficiently. The water damage team will successfully stop the source of water which is feeding the mold and make sure no other potential threats to the property are present.
Call 911 Restoration of High Desert for water damage restoration and mold removal services.
Serving the communities of Apple Valley, Hesperia, Pinon Hills, Victorville and surrounding areas.