Water Damage and Mold Removal in Victorville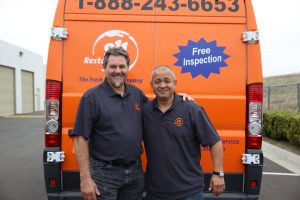 Between occasional flash floods and freezing temperatures, the climate of The High Desert poses certain risks to local homes and businesses. Especially during the winter season, low temperatures can cause pipes to freeze and ultimately burst, flooding your property with gallons upon gallons of water.
Whether it's a flooded basement, burst pipes, or a slow leak, water damage has the potential to result in costly losses and even become harmful to your health.
If you're in need of emergency water damage restoration, the professionals at 911 Restoration of The High Desert are already waiting for your call. Our highly trained, IICRC certified technicians are available to respond to any property disaster 24 hours a day, 7 days a week, 365 days a year. They even offer a 45-minute arrival guarantee to Victorville and the surrounding area, so you don't have to wait a second too long to get the relief you deserve.
The expert staff offers comprehensive water damage restoration services. They take care to completely dry out the flooded area, then they work to prevent any future damages by conducting a mold inspection and mold removal.
Our team of professionals even take the guesswork out of the insurance process. They'll help you make sense of your policy, file your claim for you, and bill your provider directly.
Time is of the essence when it comes to water damage and flood cleanup, and no one knows this better than 911 Restoration. Call us today for same-day service and a swift resolution.
Emergency Water Damage Restoration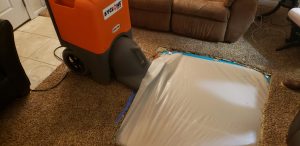 The costs of water damage can really add up. Your water damage restoration techs know this all too well, and that's why they act quickly to assess your unique situation and minimize your losses.
If you have undamaged items in the flooded area, the repair professionals will offer packing out and storing services to make sure those belongings remain undamaged. Then the techs commence flood cleanup and use professional-grade fans to dry out the space until every last trace of moisture is gone.
Depending on the extent and nature of the water damages, your property may require even more in-depth restoration. The technicians will fully inspect your walls, ceiling, and basement for subtle damages, such as water damage on sheetrock. They'll also conduct a mold inspection to ensure one form of damage doesn't lead to another.
Pipe bursts, flooded basements, and unexpected leaks can all take a serious toll on your property. Fortunately, all it takes to get back on your feet is a compassionate, expert water damage restoration team. Call us today and let us return your property to its former glory.
Certified Mold Removal Specialists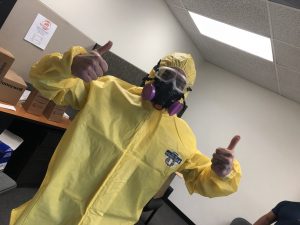 With water damage comes a heightened risk of mold infestation. Mold spores latch onto any damp surface they can find, and the more moisture they get, the more they thrive.
It is imperative that property owners seek out a professional mold removal company at the first sign of a mold infestation. Not only is the problem unsightly, but it can permanently damage surfaces in your home or office. Not to mention, infestations such as black mold are considered toxic and can be harmful to human health.
When you call the mold removal specialists at 911 Restoration of The High Desert, the technicians respond to your concern immediately with a free visual inspection for property owners. They assess the situation and present a clear-cut plan for mold decontamination. No matter where mold has grown in your home or office—under the kitchen sink, in the ceiling, on drywall—the mold remediation specialists know how to eliminate the problem completely.
Many property owners are tempted to handle mold removal themselves. They wipe down a moldy surface and the problem appears to have been taken care of. More often than not, the mold returns and the property owner has only prolonged the presence of mold contamination in their home or office.
The desire to handle mold with a simple home remedy is completely understandable. However, the mold removal technicians at 911 Restoration are better equipped to put a stop to mold on your property once and for all. Even better, they do it at an affordable rate, so you can finally enjoy a like-new property without breaking the bank.
We know that water damage and mold contamination take a toll on both your property and your peace of mind. At 911 Restoration of The High Desert, we strive to alleviate that stress and restore your property swiftly and affordably. Call us today and let us put you on the path to a Fresh Start.
911 Restoration proudly serves Adelanto, Apple Valley, Helendale, Hesperia, Lucerne Valley, Phelan, Pinon Hills, Oro Grande, Victorville, Wright Wood, Las Vegas all surrounding cities.