Water Damage in The High Desert
Weather Alert: If you are experiencing weather-related damage from the storm, call us today for emergency assistance!
911 Restoration of The High Desert
When your residential or commercial property is in need of emergency restoration services, it's good to know there is a trusted team of experts in the area. 911 Restoration of The High Desert is ready to provide total restoration to property owners in Victorville, Apple Valley, Hesperia and other surrounding cities. 
At 911 Restoration of High Desert, we offer a Fresh Start with our comprehensive selection of property damage restoration services, including but not limited to:
Whether you're a High Desert homeowner or business owner, 911 Restoration of High Desert is your Fresh Start! We'll communicate with you throughout the entire process, help answer questions related to insurance, and restore your property to its pre-damaged condition. One of our IICRC-certified teams is dispatched within 45 minutes of your call! Contact us today, and one of our friendly representatives will assist you in finding the nearest High Desert location.
Service area map
At 911 Restoration, we understand that there is no such thing as a convenient time for disaster to strike a residential or commercial property. More often than not, these things tend to occur at the absolute worst timing possible. For this reason, our team is available 24/7, 365 days per year. Which means when a disaster like water damage makes an appearance on your property on the busy holiday weekend, our team will be there in no time to combat the issue. Within 45 minutes of receiving your phone call, the water damage experts will arrive on site and begin assessing the property damage. During the assessment, they will determine the root cause behind the issue and what steps are necessary to provide complete property restoration.
If your residential or commercial property has fallen victim to water, mold, fire or smoke damage, call the restoration experts at 911 Restoration of The High Desert. The longer the damage sits, the more likely it is to worsen. Which then results in property owners spending more money than what was originally necessary to get the property back to pre-damage condition. Get on the path to a Fresh Start by reaching out to our water damage restoration team today!
Sherry M.
I would give them 6 stars if I could. I had to deal with a flood in my business, an absolute nightmare for every business owner. [911 Restoration] came right away, and they are so professional and efficient. Even after everything was done they followed up and made sure everything was back to normal. A+ customer service. Thank you
Water Damage Restoration
Dealing with water damage entails a lot more work than most people think. Contrary to popular belief, simply wiping up the water and opening a few windows to let the property air out is not enough to truly restore the property. Cleaning up water damage requires knowledge and proper equipment, all of which the team at 911 Restoration has.
Whether you are dealing with a burst pipe or flooding caused by a broken window, our water damage experts will know the proper services to provide. Water damage restoration services include:
Despite the cause behind the water damage, you can guarantee the water damage restoration experts of Victorville will get your property back to a fresh start. Restore your property and peace of mind by calling the experts at 911 Restoration of The High Desert today!
Mold Removal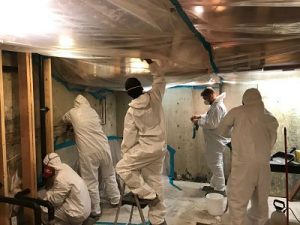 When it comes to water damage, responding quickly is essential to avoid further damage. The longer water damage restoration services are put off, the more likely you are to develop a mold infestation. Now, you need mold removal services on top of water damage restoration services. Either way, 911 Restoration of The High Desert has the knowledge required to provide mold removal services.
Due to the health risks associated with mold, as soon as you suspect your home or commercial property has fallen victim to an infestation you should call our mold removal experts. We offer mold removal services like:
Structural drying and dehumidifying

Mold Testing
Avoid unwanted allergens and irritants that accompany mold by calling the water damage experts at 911 Restoration of The High Desert. Mold has the possibility of spreading quickly throughout a property, as little as 48 hours to be exact. Therefore, the sooner the call is placed, the less damage and cost is associated with cleanup.
Fire Restoration
Following a fire, once firefighters have left the scene it seems that damage has multiplied. On top of fire restoration, there is water damage services that are needed as well due to fire fighting efforts. Thankfully, the fire restoration team at 911 Restoration has extensive training in fire and water damage cleanup. Your home or commercial property will be back to pre-fire condition and on the path to a fresh start in no time.
Our team understands the need for fire restoration services can be devastating. Many property owners experience high levels of stress and anxiety. For this reason, you need a highly trained team of fire restoration experts to help guide you during the time of need. We will work with you through the entire water damage restoration process and take every step necessary to help you feel comfortable in your property again.
When you need fire restoration services, call the experts in Victorville for a team you can rely on. Our fire restoration team will treat you and your property with expert care. Call 911 Restoration of The High Desert for water damage and fire restoration services you deserve.
Sewage Cleanup
Sewage backup can be a pain. The smell alone is enough to send property owners into a frenzy. Add to that potential structural damage and the health issues it can cause and you have yourself a full blown panic. At 911 Restoration, we know how bad needing sewage cleanup stinks, literally and figuratively. For this reason, when you need water damage services our team will respond within 45 minutes to give your property a fresh, better smelling start.
Water damage from sewage backup should be considered dangerous and left to be handled by a team of professionals. The water damage experts know how to properly handle sewage cleanup and understand the bacteria and viruses that could be present. In addition, our team has the training and special equipment necessary to safely clean the contamination from the property.
Call the water damage experts at 911 Restoration of The High Desert when you need sewage cleanup services!
Disaster Restoration
Victorville and surrounding cities can experience disasters like: fires, floods, winter storms, mudslides and more. Disasters tend to occur in the blink of an eye, and many times we are not prepared for what is headed our way. Unfortunately, they can leave behind quite the mess. Our disaster restoration experts are ready to help restore your property and peace of mind when mother nature strikes.
Whether the disaster leaves behind the need for water damage restoration services or mold removal, our team is ready to provide total property restoration. Get the restoration services you deserve from a team you can trust by calling 911 Restoration of The High Desert today!
Commercial Restoration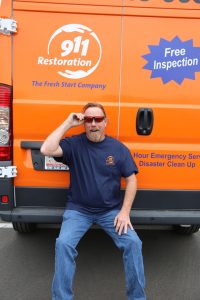 If you are a commercial property owner, then you know time means money. This reason alone is why it is vital to keep your property clean of any potential damage. Unfortunately, there will probably come a time where you need commercial restoration services. When you do, 911 Restoration has a team of experts ready to get you back to business as usual!
You can count on our commercial restoration experts in Victorville to make your property look its best! First appearance means a lot when it come to where people do business. At 911 Restoration of The High Desert, we will take whatever steps necessary to get your property's appearance back to pre-damage condition.
Whatever restoration services you may be in need of, our team has the knowledge, experience and equipment needed to combat even the worst issues. Call today to get on the path to a Fresh Start!
Serving the communities of Apple Valley, Hesperia, Pinon Hills, Victorville and surrounding areas.