Water Damage Restoration in Hesperia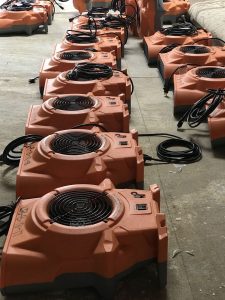 Dealing with residential or commercial damage can cause a lot of stress and frustration for property owners. Often times, damage occurs with little to no warning leaving property owners searching for emergency restoration services. Luckily for Hesperia, Victorville and surrounding area residents, 911 Restoration of High Desert is ready to provide total property restoration when disaster strikes.
The highly trained IICRC technicians are available to provide water damage restoration services year round. When property owners call our team needing water damage cleanup, they can expect a crew onsite within 45 minutes to begin assessing the damage. Once the damage has been assessed, necessary water damage restoration services will be applied. The water cleanup team will remain at the Hesperia property until it has been completely restored.
When water damage, like flooding or a burst pipe, occurs it is important to seek professional help as quickly as possible. In many cases, there is more to the issue than what meets the eye. Our water damage restoration team has the knowledge, training and experience required in order to determine what the issue is and if any further damage is present. Call 911 Restoration of High Desert to receive services from a water damage company you can trust!
Emergency Cleaning Up for Water Flooding in Hesperia
Property damage restoration should be taken seriously, especially when water damage is present. At 911 Restoration, the highly trained IICRC technicians have the tools, equipment and water cleanup techniques needed to provide the highest level of service in the industry. Disaster often strikes with little to no notice, and we want Hesperia residential and commercial property owners to know that we are available 24/7, 365 days per year to get them on the path to a fresh start.
Services offered by the water cleanup experts to Hesperia, Victorville, Apple Valley and surrounding area residents include:
Water damage and mold removal
Ceiling water damage repair
Schematic water damage repairs
Repairs to wood structures
Sewage cleanup

Drywall repair
Your safety and the safety of those who inhabit the property is our team's number one concern. When emergency flooding caused by a burst pipe occurs, you can count on 911 Restoration to respond quickly and efficiently. Call the local team of experts when your property needs water damage restoration services.
Emergency Services Restoration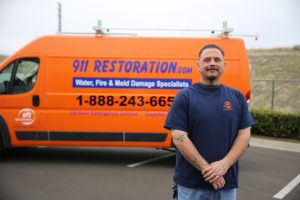 Issues like burst pipes, flood cleanup and sewage backup are common water damage restoration services provided by our team. In addition, we offer services for problems like fire damage and mold damage. 911 Restoration is an emergency services restoration company that has the means to combat property damage of any size. Our team has been trusted by Hesperia, Victorville and surrounding area residents to provide total restoration in the event property damage occurs.
Get the peace of mind you deserve by calling the trusted team of experts at 911 Restoration of High Desert when damage strikes your property. Our highly trained team has the experience to provide services including: water damage restoration, fire restoration, odor removal, mold removal, smoke removal, flood cleanup and much more.
Proudly providing restoration services to Hesperia and the following cities: